As a hotelier, you benefit twice over from completely satisfied guests: at best, they will spend their next holiday at the hotel again and thus provide the hotel with a lucrative follow-up booking. Or – and this is at least as important – your happy guests will talk to friends, acquaintances and family about their wonderful stay and generate positive word of mouth. Online reviews also have a big influence on the booking situation of a hotel these days. So make sure you get the best out of your accommodation and actively increase guest satisfaction in your hotel. The following 7 tips will help you do this.
1. Beautifully dressed up in online attire
Even before guests arrive at the hotel, they get a first impression of the accommodation – online. An appealing website with meaningful images, user-friendly navigation and direct booking options ensures a good first impression. Overall positive and credible reviews on travel portals and a transparent pricing policy are also an absolute must. This will increase your guests' anticipation.
2. Good on the outside, bad on the inside – an absolute no-go
Nothing disappoints guests more than raising expectations that your accommodation cannot fulfil. Whether it's heavily edited hotel images, false promises or exaggerated statements about room comfort – being provided with false information by hosts frustrates guests enormously. Always be honest and emphasise your individual special features: whether it's the personal bread roll service, the luxurious wellness area, the dog-friendly hotel or culinary highlights in the restaurant.
Of course, always present your accommodation in the best light. Make sure you remain honest. If the actual conditions do not fulfil your guests' expectations in the end, you will have to be prepared for negative reviews.
3. The guest is king
Always take guests' questions, requests or problems seriously and respond to them professionally. Regardless of whether the requests are justified or not. And if you do make a mistake: sincere apologies and swift corrections will put guests back in a positive mood more quickly than supposed excuses. A friendly demeanour with a smile on your lips works wonders!
4. Maintain personal contact
In order to retain hotel guests in the long term, it is important to have a good relationship with them. Individual experiences, a personal welcome or small gifts for birthdays create an emotional bond. It is helpful if you offer your guests a place to brow se through the various additional offers and experiences. Your Digital Guest Directory is perfect for this. This is where guests can book the service they want or request it digitally from the hotel team. It couldn't be easier! Guests who leave the hotel with a positive feeling will recommend it to others and be happy to return.
5. Digital facilities – only for tech-junkies?
Not at all! More and more travellers expect their hosts to keep pace with digitalisation: From free nationwide Wi-Fi to dedicated Hotel Apps and Digital Guest Directories to Info Channels on the TV, smart technology has long been part of the basic equipment in the hotel industry. This is also reflected in positive reviews.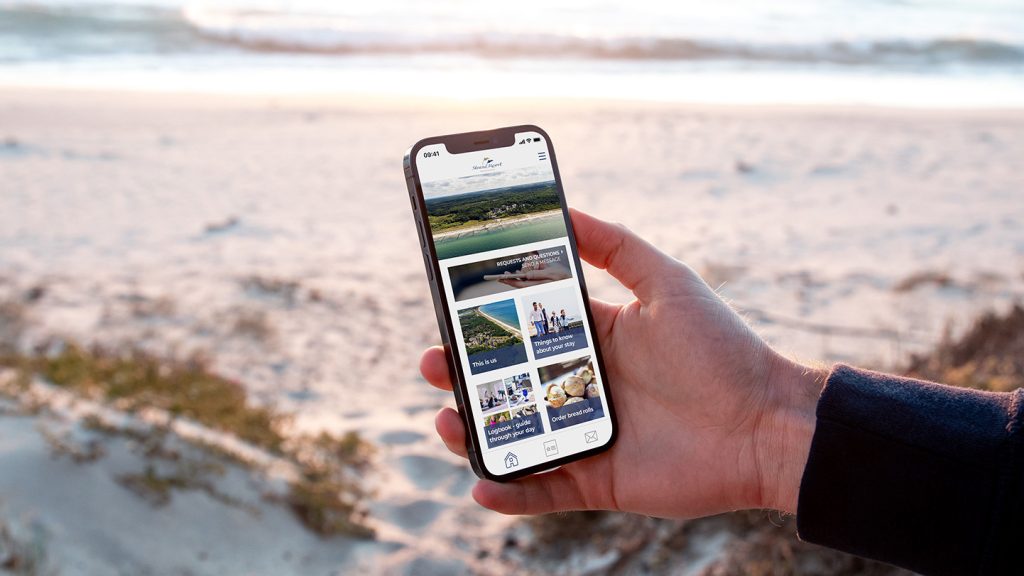 Smart TV, fast Wi-Fi and a Digital Guest Directory with all the information: These days, hotel guests regard some technologies as standard. But of course you can also exceed expectations: for example with a Hotel App in your own "look and feel". Example in the picture: StrandResort Markgrafenheide
6. Information on demand for a relaxing holiday
Today's hotel guests are looking for a break from their often stressful everyday lives. But nothing is more stressful than laboriously searching for information in many different places. Customised guest communication is the magic word! With the Digital Guest Directory by Hotelcore, for example, you can provide your guests with up-to-date and relevant information about their stay via smartphone and tablet. Maximum convenience for the guests and at the same time a great opportunity for you to market your own offers and services.
You can also use other contact points: be it with your Hotel Newspaper at the breakfast table, with push messages on guests' smartphones or with your own TV channel in the hotel room. The more frequently guests come into contact with your in-house offers, the more revenue you will generate in addition to your income from overnight stays.
7. Obtain feedback
Only those who give their guests the feeling that their opinion counts will also receive valuable feedback – whether positive or negative. Feedback of all kinds shows you whether the internal processes in your accommodation are running correctly. Ideally, you should not only give guests the opportunity to formulate feedback after their stay, but also during their stay. If you respond to this in good time, you can ensure guest satisfaction.
Feedback questionnaires in your Digital Guest Directory are a convenient way of doing this. Guests can submit their rating with just a few clicks. It is up to them whether they keep the rating anonymous or whether they give you the opportunity to respond to it by providing their name or room number. But either way, every piece of feedback is valuable for you as a host.

Make your guest a friend!
We are happy to support you in optimising your guest service.
---
This text has been translated automatically.
Image: ©Valerii Honcharuk – stock.adobe.com