How do you keep in touch with your regular guests? Perhaps you send out newsletters on a regular basis? In the first part of our blog post, we explained why emails are still one of the best communication and marketing tools and where email marketing makes sense. In this article, we will give you some concrete tips for your newsletter.
Tip 1: Check the legal requirements and respect spam rules
Since 2018, the EU's General Data Protection Regulation (GDPR) has regulated the rights and obligations for the protection of personal data – also with regard to newsletter marketing. So before you collect email addresses for your newsletter, it's best to check with your data protection officer what you specifically need to be aware of. For example, for promotional e-mails it is necessary that the recipients expressly agree to receive your newsletter when registering. Furthermore, it must be possible to unsubscribe from your newsletter at any time. It is therefore essential that you include an unsubscribe link in every mailing.
To ensure that your e-mails do not mistakenly end up in spam, pay attention to the following points:
If possible, do not insert links into your emails just like that. Clickable buttons or links behind certain words in the text are better.
At the end of your e-mail there should be a valid imprint with the name, address and contact details of your company.
Do not use – especially in the subject line – complete words in capital letters or several exclamation marks in a row. Because these emails often look like spam.
Avoid words in the subject line and the email itself that could be associated with offensive or illegal content. Critical topics include gambling, loans, insurance, finance, dating or medication.[1]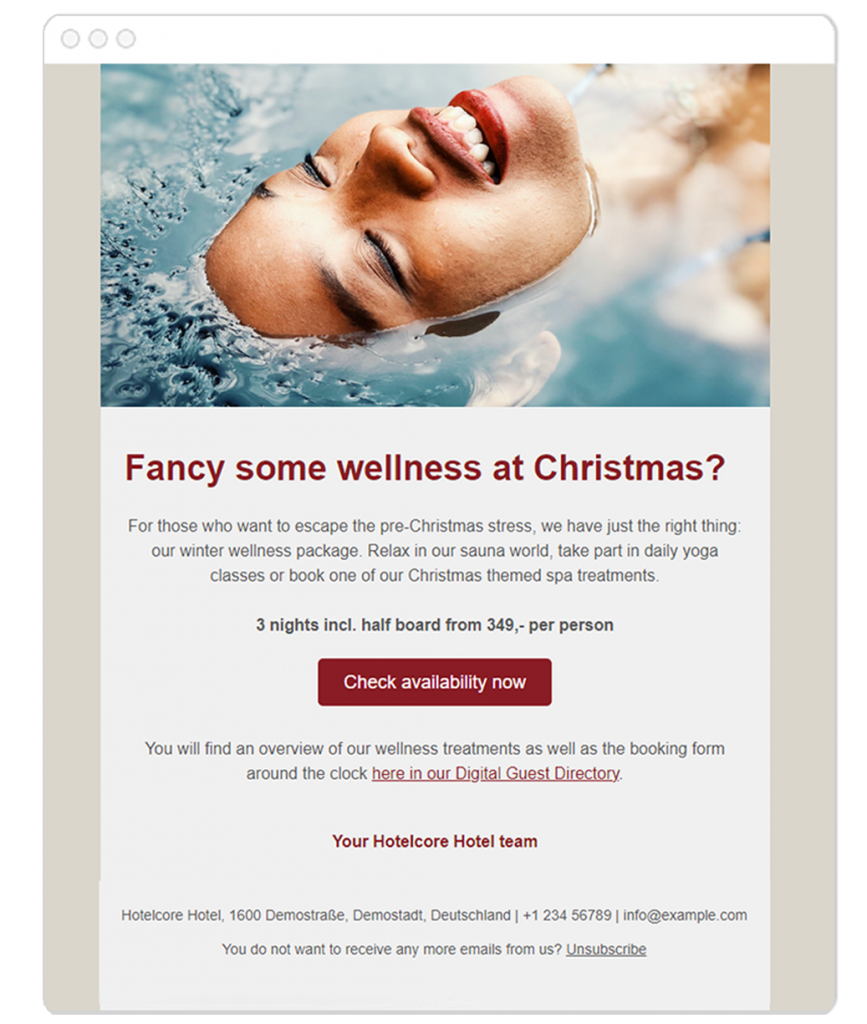 Buttons or linked words in the text instead of links: This way, your emails end up in spam less often and also make a more professional impression from a purely visual point of view.
Tip 2: Present the most important information at first glance
When formulating the content of your email, remember: your guests usually have little time and many other newsletters in their inbox. So yours should stand out and get to the heart of the topic. Therefore, put the most important things right at the beginning of the text and keep it as short as possible. Short paragraphs, bullet points, highlights and graphics help your readers to quickly grasp your email. If you want to tell your recipients more, simply include a button or a link, for example to your website. Of course, you can also combine the newsletter with other content marketing channels, for example if you link to a blog post, your Digital Guest Directory or your social media presence.
Tip 3: Find a healthy balance
When it comes to the frequency with which you send mailings, the motto is: less is more. Most newsletter subscribers are quickly annoyed by too many e-mails in a short time anyway. The consequence: they unsubscribe. This means you lose an important point of contact with your guests. So it's better to focus on quality instead of quantity!
Our tip: Prepare two or three topics first and then plan them with some time in between. Christmas wishes, for example, are a good start at the moment. Simply wish your newsletter subscribers a happy holiday season. At the same time, advertise a Christmas arrangement in your hotel or the festive dinner in your restaurant. Of course, this also works for New Year's Eve, Easter, Halloween or similar occasions. In this way, the first fixed e-mail campaigns for the coming year are already scheduled. You can fill the time in between spontaneously with news from your accommodation.
Tip 4: Choose your subject carefully
Every working person receives an average of 26 e-mails per day.[2] And after work, their private inbox often looks the same. So how do you make sure your email doesn't get lost in the shuffle? A rule of thumb for email campaigns says: If you want to compose a successful email, spend half the time on the content and the other half on the subject line alone. After all, the subject line determines the open rate and thus how many people see the newsletter content in the first place. But keep it short here, too. Depending on the device and email programme, recipients only see a maximum of 30-70 characters anyway.[3]
By the way: Emojis are also allowed in the subject line. The colourful images will make your email stand out in your guests' inboxes. According to a study, smileys in the subject line increase the opening rate by an average of 20 percent![4]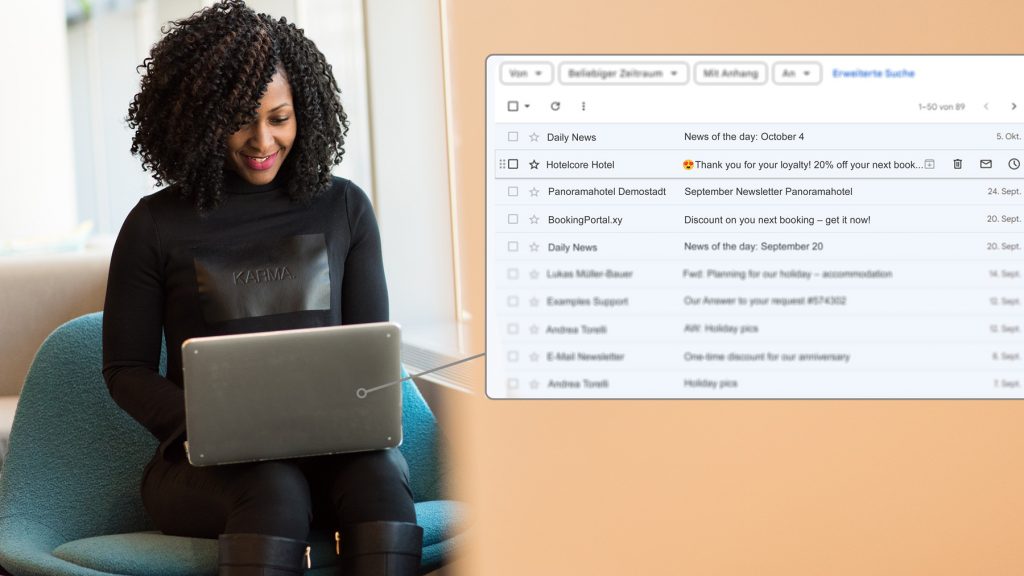 Emojis in the subject line stand out. That's why they are becoming more and more popular in email marketing.
Tip 5: Pay attention to a well thought-out design
As already indicated in tip 2, you should format your email clearly. This improves readability. Apart from that, make sure you have an appealing design that reflects your accommodation. A must-have is, for example, your logo – preferably right at the top of the email or alternatively in the signature at the end. In terms of colours, fonts and images, most newsletter systems now offer you a great deal of design freedom. This way you can create the e-mails in your corporate design. Your guests will recognise at first glance who this e-mail comes from. This looks professional and strengthens your brand.
Tip 6: Evaluate and use the findings for the next e-mail campaign
After you have successfully sent out your e-mail campaign, there is really only one thing left to do: Wait and evaluate! Because a newsletter not only brings you more attention for your accommodation, but also some information about the interests and behaviour of your recipients. The evaluation in your e-mail editor should at least provide you with the following key figures:
Opening rate
Best opening time
Unsubscribe rate
Number of clicks on links or buttons or click rate
Number of openings on desktop and mobile devices
In addition, test sending your newsletter on different days of the week. This way, you will gradually get a feeling for which day works best for your email marketing via the open rate. Thanks to all the findings from your analyses, optimise each subsequent newsletter a little more. Ypu will get to know your regulars even better and optimize your marketing measures.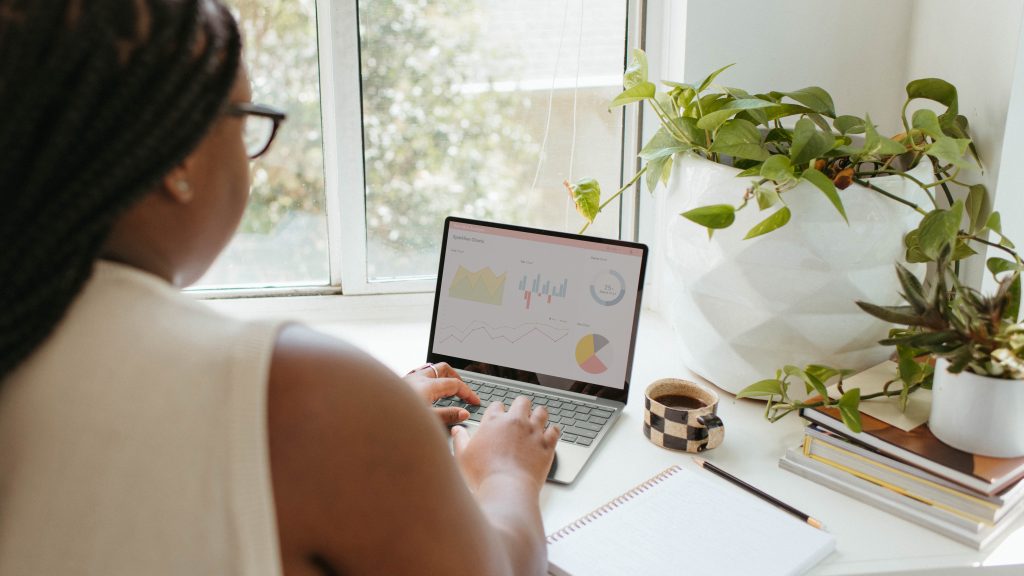 Make sure you carry out an analysis of the newsletters you send out. You will learn a lot about the behaviour of your recipients.
With these tips, your newsletter is sure to be a success. Find more information on hotel marketing and guest communication in the following articles:
---
Sources:
[1] Mailjet, The 120 worst spam words in emails [checklist]: https://www.mailjet.com/de/blog/email/spam-woerter-emails/
[2] Bitkom, An average of 26 professional emails land in your inbox every day, press release dated 22.03.2021: https://www.bitkom.org/Presse/Presseinformation/Durchschnittlich-26-berufliche-E-Mails
[3] SC-Networks, The optimal email subject line: Dos and Don 'ts. https://www.sc-networks.de/produkt/email-marketing-tool/betreffzeile/
[4] Tageskarte.io, How guests deal with emails from hotels, 14 June 2022: https://www.tageskarte.io/hotellerie/detail/wie-gaeste-mit-e-mails-von-hotels-umgehen.html

This text has been translated automatically.