If you compare the hotel industry of 2019 with that of today, you realise how much the industry has evolved in just a few years. The guest expectations and the lack of staff in the industry requires more efficient processes. But hardly any segment has changed as much in recent years as business travel. We take a closer look at the status quo in the segment of business and city hotels.
The contents in brief:
Initial situation: The intensive "bow wave" of business trips
Let's look back to spring 2022: After almost two years of restrictions due to Corona, the health situation is easing. Business meetings and industry events are possible again without any problems. Business trips, trade fairs and conferences are taking place again. And the hosts who depend on these business travellers are breathing a sigh of relief.
Business travel had suddenly plummeted by more than 80 % in 2020. For a brief moment, some representatives of the industry doubted whether the business travel segment would ever be "the same" again. But in 2022, the numbers of business travellers really exploded. According to the Chairman of the DRV's Business Travel Committee, Alexander Albert, there was a "bow wave" whose intensity surprised everyone in the industry. [1] When it comes to the question of whether the number of trips will return to the level of 2019 in the next few years, the opinions of the companies are very different. However, looking at the overall spend on business travel, we are on track for a full recovery in the industry. [2]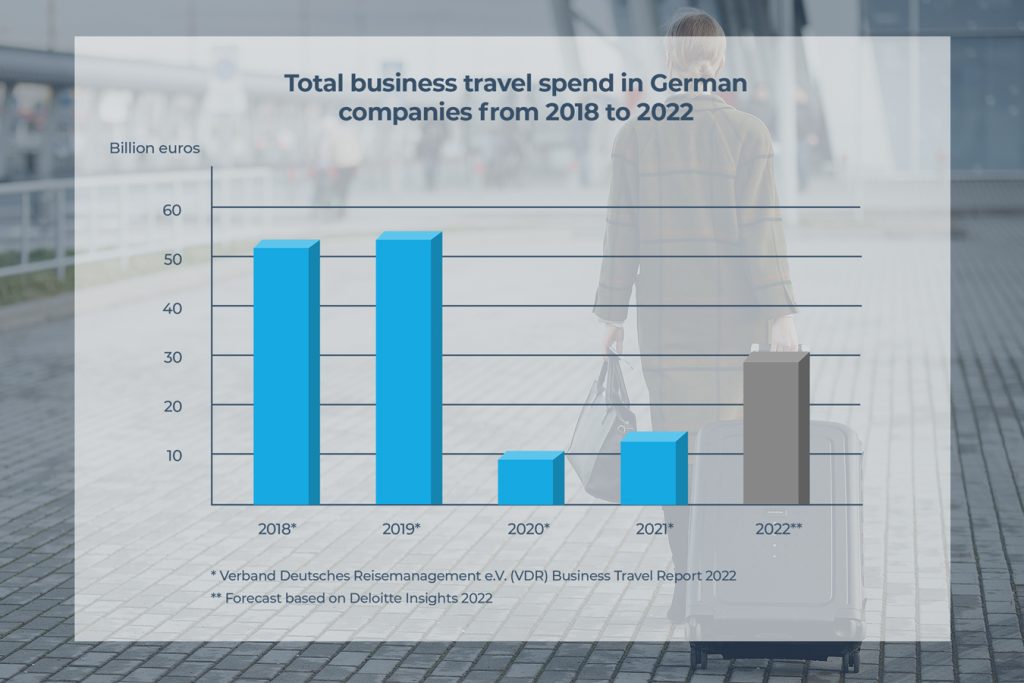 The business travel segment is visibly recovering. Final figures for 2022 are not yet available, but the consulting agency Deloitte Insights estimated that business travel spend reached about 55% of pre-crisis levels last year. [6] So the situation in business hotels is definitely improving.
Business Travel 2.0: Business trips are becoming less frequent, but longer
The German Travel Management Association (VDR) has thoroughly examined the new status quo in the business travel sector. According to this, we are currently experiencing a "new start with changed coordinates". [2] Experts expect companies to plan fewer short routine trips in future, but to invest more resources in longer and larger business trips. This is already reflected in the statistics: in 2022, a business trip lasted an average of 6.1 days, whereas in the pre-crisis year 2019 it was only five days. [3]
One reason for this: most employees now easily conduct simple meetings via video conference. These have been part of the norm since the Corona era. For certain purposes, however, companies still prefer a real business trip. These include, for example, sales meetings and important decision-making [2], but also team-building measures. [4]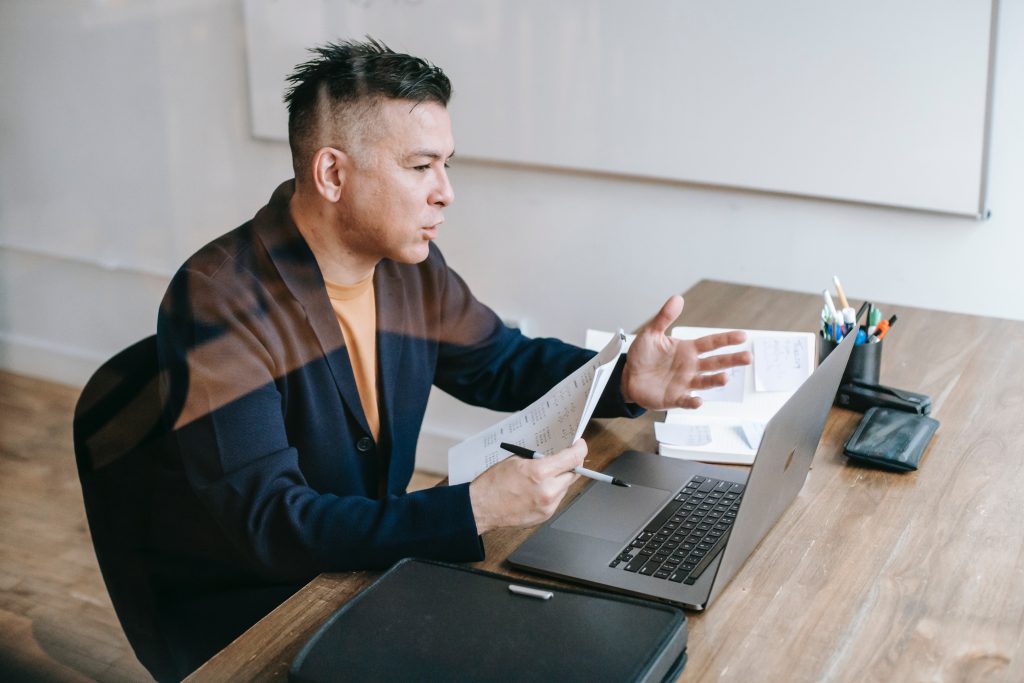 Video calls may replace individual meetings in everyday work, but companies have long since returned to face-to-face meetings for important negotiations, team-building measures, trade fairs and conferences.
Higher appreciation for the actual journey – more potential for upselling and cross-selling
The first real business trip after the COVID time is something many travellers have longed for. After countless meetings via video call, many people have grown tired of online and have developed a new appreciation for face-to-face meetings. So while people are travelling less overall, comfort is becoming more of a priority. In short, if people are travelling now, they are doing it right! According to a study by Airplus, business travellers, for example, enjoy business class seats more often on flights than before COVID. [3]
Hoteliers are also taking advantage of this trend by targeted cross-selling. This could be an additional offer already at the time of booking: "Are you travelling on business? Would you like to book a parking space or our airport shuttle?" Or spontaneously during your stay, for example: "Business lunch in our hotel restaurant: starter and main course, including water and hot drink for only X euros." Guests have a good chance of increasing their turnover if they actively market their offers. Booking confirmations or push messages to guests' smartphones via their own app or Digital Guest Directory are suitable for this. Screens in the hotel rooms or in highly frequented places are also ideal for cross-selling – for example on the hotel's own Info Channel.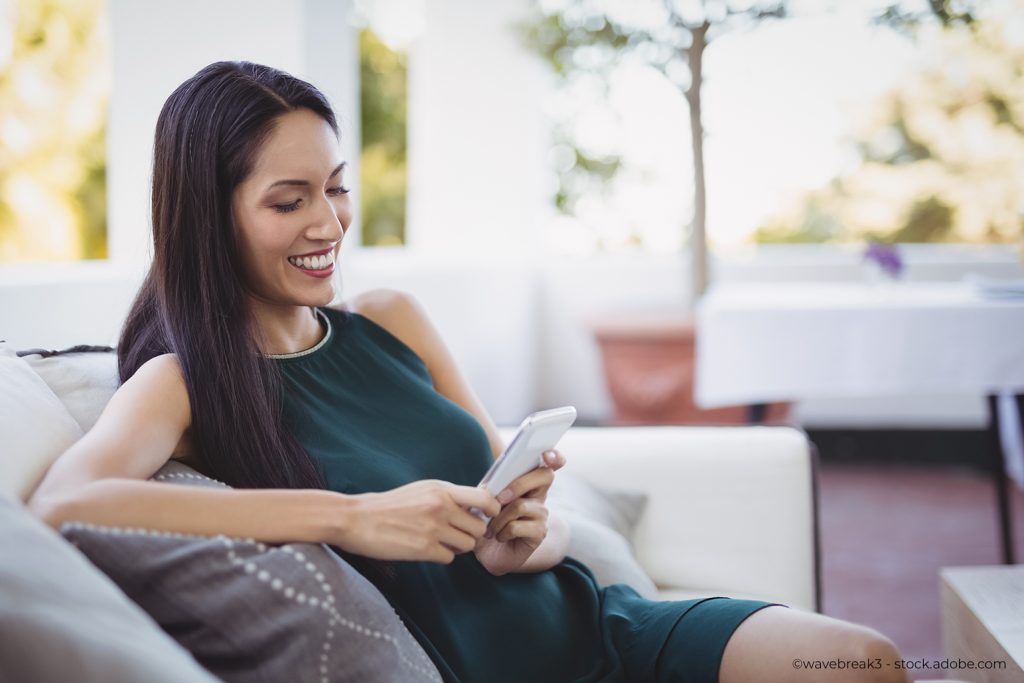 Business travellers have developed a new appreciation for travel. They therefore want a particularly comfortable stay and are more receptive to additional offers such as restaurant visits or wellness and leisure facilities.
Digital services and hygiene are still relevant
COVID-19 has changed some aspects of our lives permanently. These include people's greater awareness for hygiene, but also the fact that digitalisation has progressed faster in many areas. This is confirmed by a survey conducted by the VDR, in which companies were asked to make future forecasts for business travel in the next three to five years. Here, 96 % stated that digital processes will continue to become increasingly important in the future. Accordingly, almost as many (94 %) are of the opinion that hygiene concepts will continue to be important on business trips. [2]
Hosts should therefore not immediately discard contactless check-in options, digital menus and hygiene concepts . Especially since services such as the Digital Guest Directory offer numerous other advantages: They not only enable contactless communication between guests and hotel staff, but also a convenient and modern guest service. For example, guests fill out the digital registration form here in advance and thus ensure a faster check-in. This makes for a pleasant stay for the guests and at the same time reduces the workload of the staff.
Tip:
Read more about digital services and their advantages for business and city hotels in
this blog post.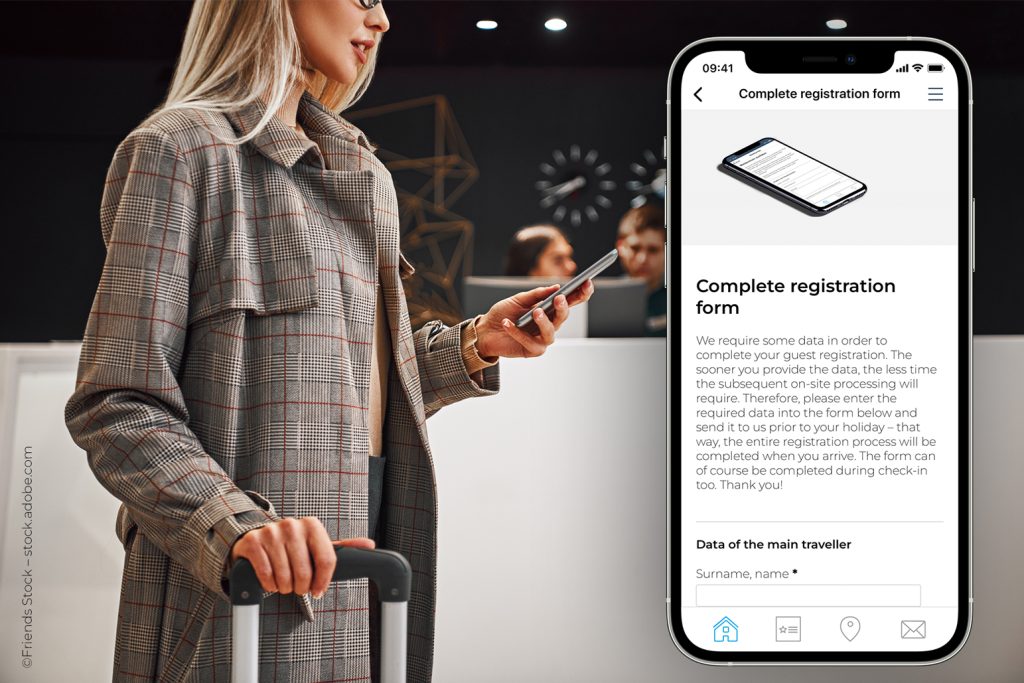 Trade fairs and events: New concepts
Trade fairs, conferences and corporate events are also possible again in presence after a break of almost three years. The best example: ITB as one of the most important international tourism trade fairs took place a few days ago – for the first time on site in Berlin since 2019. [5] The "changed coordinates" at the events here are obviously the hybrid concepts. This involves a combination of face-to-face meetings and online events. In a survey by the VDR, half of the companies interviewed said they see hybrid events as the concept of the future. [2]
Business and city hotels that want to remain attractive venues for such events must react to this: In many cases, conference rooms with whiteboards, tables and chairs are no longer sufficient. A stable internet connection, the appropriate technology for live streaming and trained staff for hybrid events are required. Places where guests can withdraw with laptops and headsets also make sense. Some listen undisturbed to the next online programme item of a hybrid event. Other business guests use them to to check their email inbox during a quiet minute.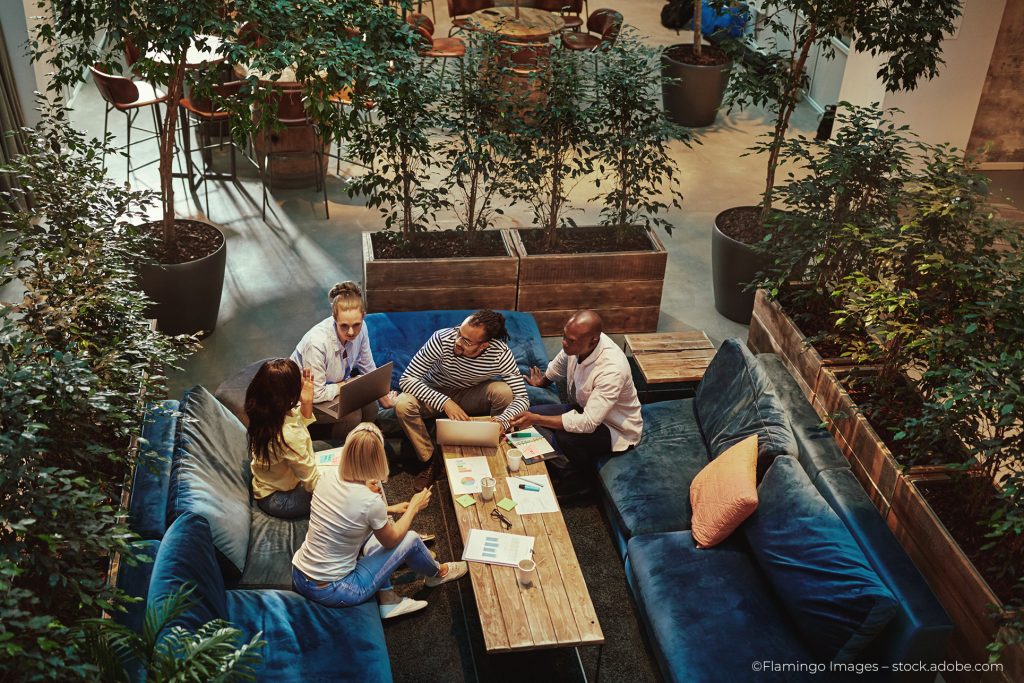 Many modern business hotels offer their guests a lounge or a co-working space in addition to the hotel rooms and meeting rooms. There, business travellers can work undisturbed alone or in groups.
Tips: How business and city hotels can optimally adapt to the new situation
Extra offers for business guests:
Put together an attractive package for business trips – with appropriate accommodation rates, including unlimited WiFi, leisure offers in the evenings and e.g. shuttle to the airport, train station or trade fair.
Upselling and cross-selling:
Offer guests additional services. E.g. lunch or dinner at the hotel, parking, sports and leisure activities, extension of stay, etc., using digital request forms. Draw attention to your services in various places: in your email correspondence, in your Digital Guest Directory and on your hotel TV.
Healthy level of non-contact services:
Business travellers love services that save time. Enable them to check in quickly thanks to a digital check-in slip and provide them with all important guest information in your Digital Guest Directory before they arrive.
Events online and in presence at the same time:
Don't just offer conference rooms, but ideally also technology and services for hybrid events.
Retreats for business travellers:
Create sufficient places, such as "business lounges", where your guests can withdraw with their laptops and headsets or meet in smaller groups for a productive exchange.
Would you like to learn more about how to respond to the changing demands of business travellers? We show you how to offer your guests a modern, digital service in your hotel.
---
Image source: ©Jacob Lund – stock.adobe.com
Sources:
[1] Süddeutsche Zeitung, 31 January 2023, How Business Travel is Reinventing Itself: https://www.sueddeutsche.de/wirtschaft/dienstreise-comeback-arbeit-reisen-1.5741724
[2] VDR Business Travel Analysis 2022, 20th Edition: https://www.vdr-service.de/geschaeftsreiseanalyse/download-vdr-geschaeftsreiseanalyse-2022
[3] Hotelvor9.de, 15 February 2023, Business Travellers Travel More Comfortably and Longer: https://www.hotelvor9.de/inside/business-traveller-reisen-komfortabler-und-laenger
[4] Tophotel.de, 19 October 2022, 7 travel trends for 2023: https://www.tophotel.de/booking-com-7-reisetrends-fuer-2023-157999/
[5] ITB.com, Press release from 09 March 2023: https://www.itb.com/de/presse/pressemitteilungen/news_9408.html?referrer=/presse/pressemitteilungen/#news-de-9408
[6] Deloitte Insights, 18 April 2022, Reshaping the landscape: Corporate travel in 2022 and beyond: https://www2.deloitte.com/us/en/insights/focus/transportation/business-travel-trends-outlook-2022.html
This text has been translated automatically.