In a few days, another year will come to and end. More than ever, we have the feeling that it has flown by. After all, didn't we just share exciting figures and funny cat photos for our review of 2021 last week? Surely it's because so much has happened. Because our year 2022 was filled to the brim with great novelties, familiar constants and long-awaited comebacks. Take a look back with us at twelve exciting months.
Novelties
The Hotelboard: New product with big impact
One of our biggest milestones came right at the beginning of the year: In February, we launched the Hotelboard. As a hotel operations platform, it supports hosts and their teams in their daily work. Employees organise their tasks, communicate with each other and share internal knowledge via the Hotelboard.
But the Hotelboard is not just another item on our list of products. It fits perfectly into the solutions we already have in place. In addition to the digital support of guests, Hotelcore's software has since then also covered the area behind the reception, i.e. team communication and task management. Thus, Hotelcore has evolved from an expert in digital guest communication to a complete solution for everyday hotel life.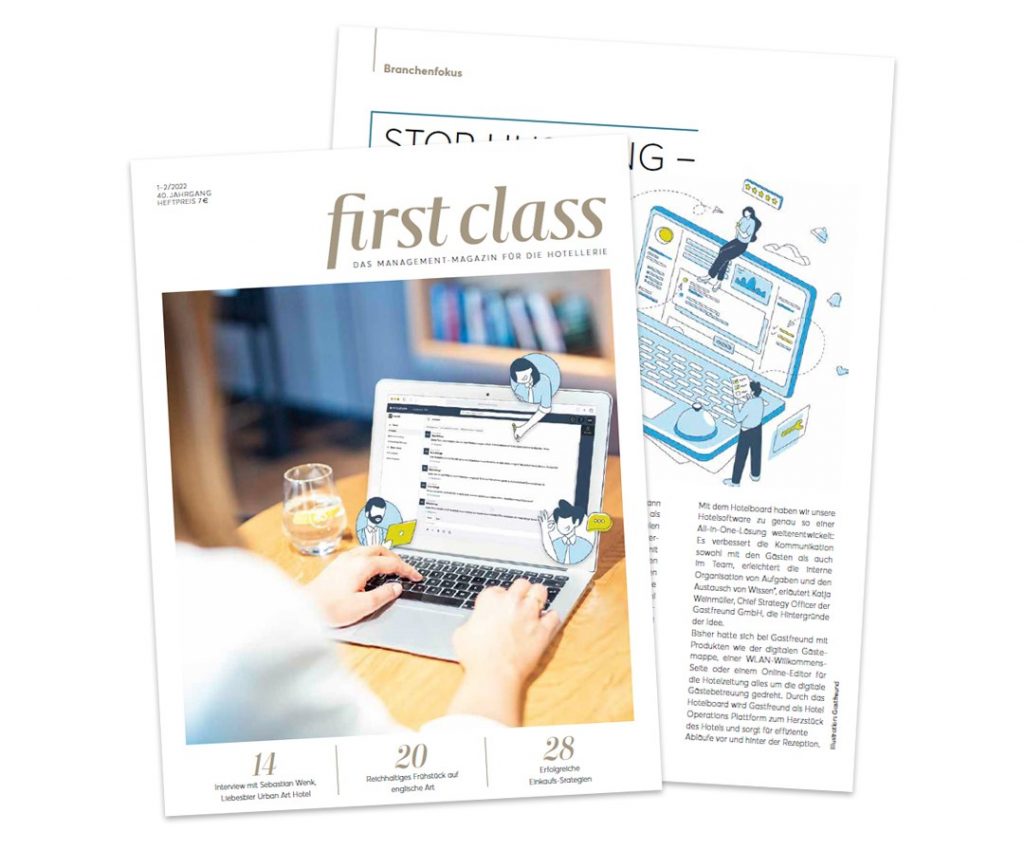 Probably the biggest innovation of the year: Our new product, the Hotelboard, was launched – and promptly landed on the magazine cover of the hospitality magazine "first class"!
Would you like to learn more about the Hotelboard in a personal appointment?
Further innovations in the Hotelcore product world
In addition to the big innovation, the Hotelboard, we of course continue to focus on all other products: the Digital Guest Directory, the Hotel App, the Info Channel and the Hotel Newspaper. For this, we rely on the feedback of more than 6,500 hosts who use our software every day. They are the best people to contact when it comes to helpful enhancements and sensible optimisations. That's why we would like to take this opportunity to say: Thank you for all your valuable input!
Highlights of the product updates this year included, for example, more options for embedding videos on the Info Channel and more interaction options in the digital versions of the Hotel Newspaper. We have also optimised our processes with regard to the Hotel App so that we now complete new apps faster than ever before.
The new international brand Hotelcore
2022 was a year of internationalisation for us. For several years now, we have been supporting accommodation providers with our products not only in German-speaking countries, but also in the Netherlands, France, Italy, the United Kingdom and many other places around the world.
In the first quarter of this year, we therefore decided to take a big step: instead of using the name "Guestfriend", we have since been operating internationally as "Hotelcore". The new brand perfectly represents our orientation as an all-in-one hotel operations platform. "Guestfriend" remains the name for our Digital Guest Directory. Read all about our rebranding here.
Comebacks
Finally more personal contact again
As important as home offices, video calls and online meetings were during COVID19 – we were all happy about more personal exchange again this year. This applied to direct contact both within the Hotelcore team and with our partners, customers and interested parties.
Back to normality at the trade fairs and events
Another welcome comeback in our year 2022 were the industry events. After a break of more than two years, our participation in three trade fairs and five events this year was a real highlight. We were able to meet numerous hosts and industry representatives in person, make new contacts and strengthen old ones.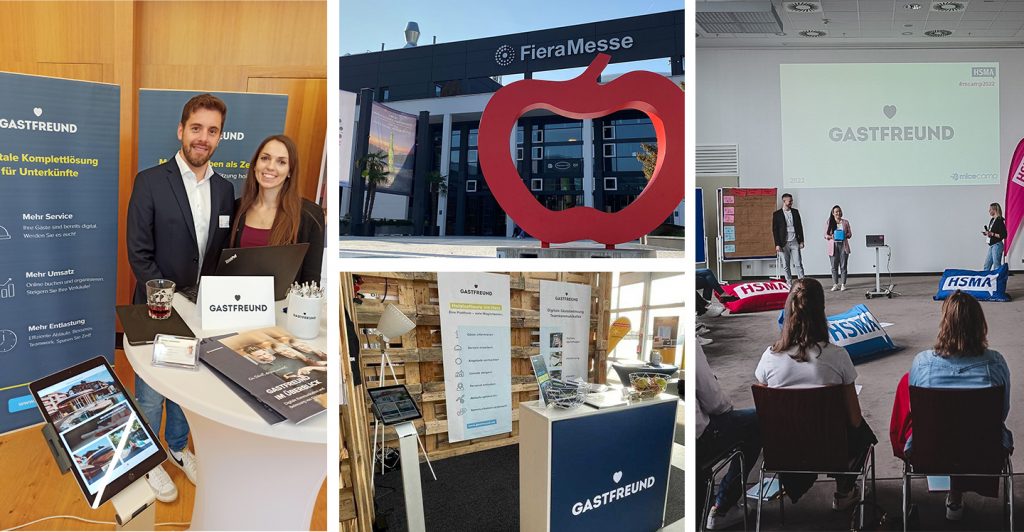 This year, Hotelcore was represented at the Hotel Optimal Holiday Conference in Graz (left), the "Hotel 2022" trade fair in Bolzano (top, centre), the "DOMIZIL" in Husum (bottom, centre) and at the HSMA MiceCamp in Bremerhaven (right).
By the way: We will be represented at various trade fairs again next year. Would you also like to talk to us in person? Follow us on Instagram or Facebook and find out in advance at which events you can meet Hotelcore.
Constants
Our usual good cooperation with customers
We have always attached great importance to a personal and close exchange with the hosts who use our products every day. We are all the more pleased that our high service standards are repeatedly reflected in the feedback we receive from our customers.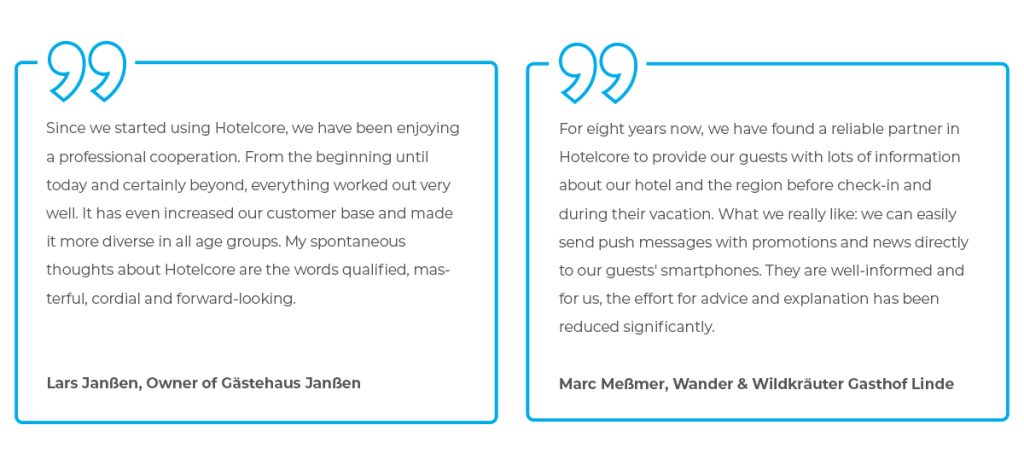 Here you can find more reviews of the Gastfreund GmbH on Google.
Hotelcore in the media: press, blog articles, social media and co.
Another constant at Hotelcore is that there is always something new to report. For example in the trade press: 23 times this year the media have published articles about us. You can find a selection of the publications here on our website.
We ourselves were just as busy: 24 articles you could read here on the Gastfreund blog this year . As usual, there was a colourful mix of topics ranging from current hotel trends, practical hotel software, tips for everyday hotel life and exciting interviews with industry experts. All these topics are also reflected in the top articles from 2022:
We also published more than 400 posts on social media. So our combined 29 thousand+ followers had quite a lot to read and see! We love the exchange with our customers, partners and interested parties and are happy about every new member in the community. No matter whether you are looking for tips and tricks for your everyday life as a host, want to learn more about digitalisation in the hotel industry or would simply like to support us: Take a look!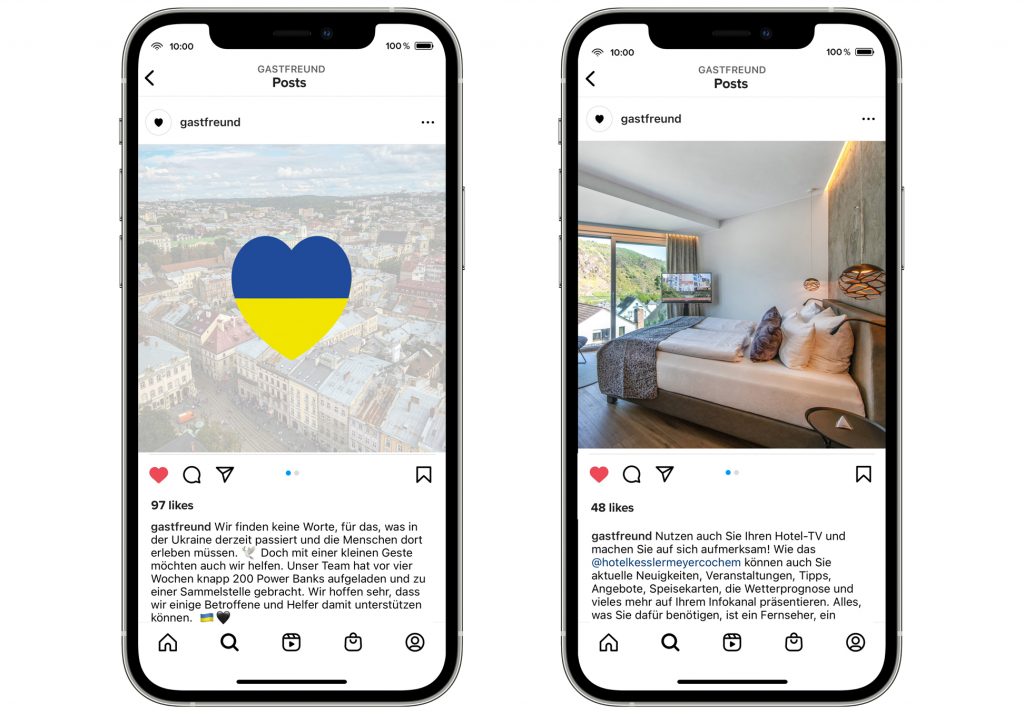 These posts on our Instagram profile generated the most reactions in 2022: The first one was about those affected by the war in Ukraine and our sympathy for them. On the right is the Info Channel in the Wellnesshotel Kessler Meyer Well & Wine.
Anticipation for 2023: Let's celebrate!
After this exciting year, we can't wait for the next one. We are sure: There will be lots of new things to report in 2023 as well. But above all, we are already looking forward to a very special anniversary coming up in a few months. You will find out in the new year how we would like to celebrate it together with you. Stay tuned!
Thank you for your loyalty in 2022. We wish you a wonderful end of the year and a pleasant start into 2023!
Your Hotelcore Team
info@hotelcore.io | +49 831 930 657-0
This text has been translated automatically.